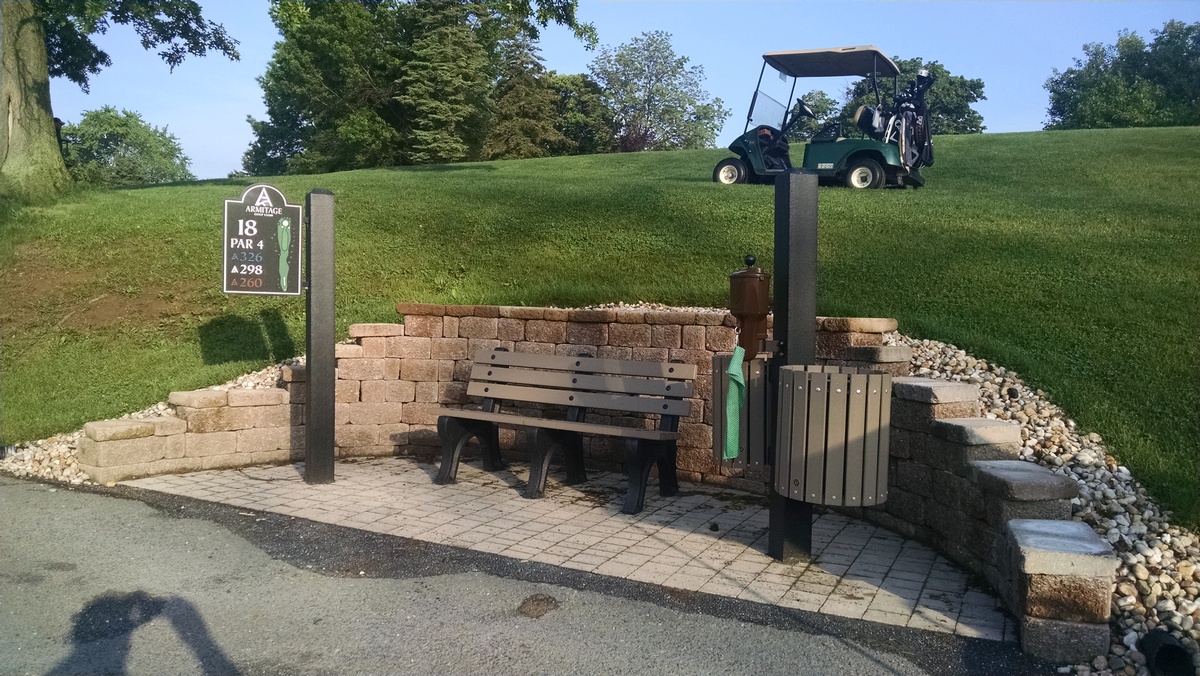 Armitage Golf Club is pleased to offer corporations the opportunity to advertise their business by sponsoring tee box accessories on all 18 holes. Armitage has consistently been one of the most played golf courses in central Pennsylvania for the past 20 years and has not gone unnoticed by golfers of all skill levels. In fact, Harrisburg Magazine recognized Armitage Golf Club as "Simply the Best Golf Course" for 2023, and 21 out of the last 24 years! With over 40,000 rounds of golf played annually, Armitage Golf Club is a great place for your business to advertise and promote its services or goods.
Each tee box sponsorship will include a bench, ball washer, hole layout, trash and recycling receptacles and, of course, a 12" x 17" sign with your company logo and name (sponsor is responsible for providing a digital camera ready copy of their logo and company name). Additionally, as a tee box sponsor, your company will be recognized on our website with a direct link to your website. This will encourage patrons who access our website to learn more about your business as well. Along with the attractive and highly visible advertising, your company will also receive 20 complimentary rounds of golf, excluding a cart, to be used each year of your sponsorship.
Please see below the different contract options that may fit your business needs.
2 Year Sponsorship – $3,000:
Includes the cost of the tee box accessories listed above, two years of advertisement of your company logo on an approved 12" x 17" sign, any maintenance or repairs needed to the accessories, 20 rounds of golf each year (excluding cart fee) to be used anytime (currently a savings of $1,280 over a two year period) and recognition of your sponsorship on our website along with a link to your website.
Options for Annual Extension of a Corporate Sponsorship
We have 3 different extension options for interested returning sponsors.
Interested parties may contact Scott Houseal at the Armitage Golf Club Pro Shop at 717-737-5344 orshouseal@hampdentownship.us